Time Deposit Accounts
Considering a term deposit or looking to start earning fixed term deposit interest rates? The Citibank Term Deposit account puts your money to work earning interest instead of leaving it sitting idle in a current account.
Sometimes called a fixed deposit or time deposit, a term deposit lets you earn interest on a wide range of currencies and with different tenors to suit your financial needs. Apply now for your fixed term deposit account today or a foreign currency term deposit.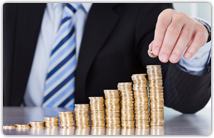 CITIBANK TERM DEPOSIT
A Citibank Term Deposit is an excellent way for you to put your money to work.
Instead of leaving your money sitting idle or in a current account, you can put it into a term deposit and gain significantly higher interest.
Note: From September 05, 2014 according to applicable law, foreigner cannot book foreign currency Term Deposit and Unfixed Deposit.
Benefits
Enjoy complete peace of mind with your hard-earned money secured at Citibank.
Enjoy attractive interest rate across all tenors.
Flexible terms deposits with a wide range of currency availability:

Vietnam Dong (VND)
US Dollars (USD)
Euros (EUR)
Japanese Yen (JPY)
British Pounds (GBP)
Australian Dollars (AUD)
Singapore Dollars (SGD)
Hong Kong Dollars (HKD)

Free email and SMS Alert for Time Deposit maturities or rollovers notification.
Manage your Term Deposits at your absolute convenience anytime, any where via Citibank Online® and Citi Mobile®, totally free of charge.
Auto-rollover is available.
Features
Flexible choice of tenors: 1 week, 2 week, 3 week, 1 month, 2 month, 3 month, 6 month, 9 month and 12 month.
Minimum Initial Deposit of VND 20,000,000 or USD 1,000.
Combined statement facility available.
Can be booked instantly via Citibank Online®.
How to Apply
Required documents for Vietnamese (one of these following):
National ID
Citizen ID
Passport
Required documents for Foreigner:
Passport and one of these following documents: Visa/ Visa exemption- has minimum 06 (six) months validity since account opening date
Or simply speak to our financial advisor at any branch of Citibank for consultation.
In Ho Chi Minh City: Sunwah Tower, 115 Nguyen Hue Street, District 1.
In Hanoi: Horison Tower, 40 Cat Linh Street, Cat Linh Ward, Dong Da District, Hanoi.
FAQs
You can view details of your Term Deposit via Citibank Online® and Citi Mobile®, or contact our staff for further assistance.
The Bank will pay the principal of Term Deposit including its interest on the maturity date as stated in the Term Deposit Application Contract. If payment is done to Current Account in different currency, Bank will pay the interest in foreign currency or do conversion of foreign currency by using applicable conversion rate of the currency at the time of the conversion.
In case the Term Deposit Application Contract is crumpled/ torn/ lost, customer can go to Branch to request copies or reference of the contract.