4 SIMPLE WAYS TO PAY YOUR CREDIT CARD BILLS
I. DO A FUNDS TRANSFER FROM ANOTHER BANK*
* For Funds Transfers/Payments done:
- Before 3:00 PM on Banking days – Funds will be credited on the next Banking day.
- After 3:00 PM on weekdays and non-banking days (public holidays and weekend) will be processed and credited after 2 Banking days.

* Please review all the details and ensure that Beneficiary name and account number are correct before submission.

Beneficiary name is the full account name printed on your National Identity Card/Citizen Identity Card/Passport.
Beneficiary bank account is 16-digit credit card number.
Bank name: Citibank, N.A - Ho Chi Minh City Branch or Citibank, N.A - Hanoi Branch.
II. MAKE YOUR PAYMENT VIA A CITIBANK SAVINGS ACCOUNT
Transfer in 3 simple steps via Citi Mobile® App (see below) or via Citibank® Online here.

Step 1: Login to the Citi Mobile® App and tap on Credit Cards.
Step 2: Choose the card for Payment and click on Pay Card.
Step 3: Choose your payment option and click Pay.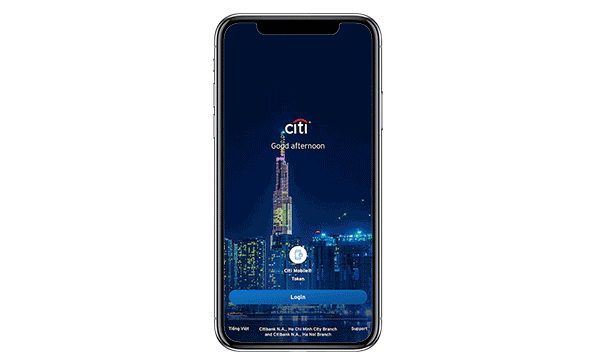 III. PAY VIA OUR 24/7 CASH DEPOSIT MACHINES (CDMs)
Cash Deposit Machines are available at Citibank, N.A., Ho Chi Minh Branch and Hanoi Branch. Click here to find out.
The payments for Credit Cards will require customers to insert physical card and enter Credit Card PIN to process the transaction.
How to Create Credit Card Pin
Step 1: Login to the Citi Mobile® >> Select your Credit Card.
Step 2: Tap "Manage" >> Select "ATM PIN".
Step 3: Create your own PIN.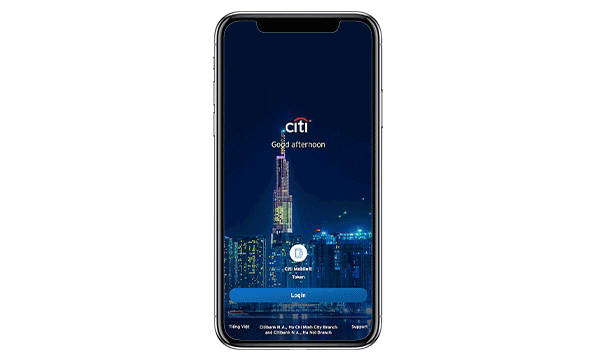 IMPORTANT NOTICE: In case, the Account Holder does not pay or pay less than the Minimum Payment Amount on the Payment due date, the Bank will classify the Account Holder's debt group to higher one as stipulated as per Circular 02/2013/TT-NHNN and other relevant regulations.
IV. PAYMENT VIA 24/7 PAYOO LOCATIONS
Make cash payments for your Citi Credit Cards at 24/7 convenience stores available at over 4,000 locations with Payoo.
Convenience Store chains supporting Citi Credit Card Payment:
Click here for Payoo locations.
Bring your Citi Credit Card to Payoo locations, swipe your card at the POS and provide your desired payment amount to make a cash payment.
Payment Amount
Min: Minimum Due or VND 50,000 (whichever higher)
Max: Current Balance or VND 20,000,000 (whichever lower)
Payment amount that is less than Min or greater than Max will be rejected by Payoo.
Processing Time
Payment is credited to your balance in 2 business days upon payment is made.
Payment is credit to your balance in 3 business days for payments made from 4PM and onwards.
No. of Transactions
Maximum 2 transactions per day for each credit card.