|
|
Citibank Cash Back Card
Citi Cash Back Card - Apply Now
Your new Citibank Cash Back Visa Platinum Card, the ultimate companion for your everyday spends, designed to potentially save you hundreds of dollars each year.
Your evergreen Cash Back is automatically earned all year long for doing all the things you love - shopping, dining or anything else. Every time you spend on your Citi Cash Back credit card, you earn cash rebate. The cash rebates are stored until you decide to redeem them to offset your monthly statement. Now you can save more on all your spends.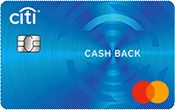 Citi Cash Back Card - Apply Now
Top 3 reasons to get a Citibank Cash Back Card
Get up to 5% cash back on purchases, additional bonus Cash Back for Overseas transactions and Cash Advance from ATM.
Cash Back is automatically earned and never expires.
Global access in making purchases at 30 million establishments and 24 hour cash access at over 1.9 Million Plus ATM; and special offers from Visa Platinum privileges and Citibank World Privileges.
How to redeem Cash Back?
1,000 Cash Back = VND 1,000.
To view your Cash Back, please log in to Citi Online and follow here.
Call CitiPhone number (84 8) 3521 1111 to redeem when you have Cash Back from VND 800,000 or more. The Cash Back will be credited in the next statement of the Customer.
Benefits
Value Added Services
You can keep yourself updated on transactions on your Card account - either as an SMS or email with Citi Alerts. Typical alerts include:
Transactions
Payment Posted
Credit Limit near to Maximum
Payment Due Date Reminder
Mini Statements
You can share the exclusive benefits and privileges of your Citibank Cash Back by giving your loved ones a supplementary card and be able to manage their spending.
Enjoy automatic, complimentary Purchase Protection and Home Protection while you are away. All items that you purchase entirely with the Citibank Cash Back Card are protected from loss due to theft and accidental damage. In addition, if you make travel purchases entirely with the Citibank Cash Back Card, you are automatically covered for accidental damage or loss of items due to burglary at your residence during your absence.
Privileges
You can enjoy thousands of privileges and discount offers in over 30 countries. Whether you are travelling on business or leisure, you can be sure that the Citibank Cash Back card brings you instant recognition and privileges at department stores, hotels, fine dining establishments, tourism locations, golf and spas around the world.
Be showered with exclusive Visa Platinum privileges, including concierge benefits and access to prestigious golf courses, special discounts and offers on airfares, hotels, beauty & spa, plus many more with your Citibank Cash Back Card.
You can also take advantage of 24/7 Platinum Concierge service whenever you need assistance for a host of lifestyle services or emergency assistance.
Click here for a list of toll-free Concierge hotlines.
How to Apply
You must be aged 21 years old and above (18 Years for a supplementary card member).
We also require your National ID/Citizen ID/Passport copy, a proof of income, Bank statements and a proof of your current residence.
For Businessmen: a copy of your Passport, Business registration, Latest audited financials and six months bank statements.
Upon receipt of complete documents, Citibank will normally revert back to you within 15 working days and in any case no more than 60 working days.
Download, Print and Fill out this form.
Please call CitiPhone at (84 8) 3521 1111 (84 8) 3521 1111, our staff will visit you to process your application and documentation. Please ensure you have the supporting documents ready with you.
Upon receipt of complete documents, Citibank will normally revert back to you within 15 working days and in any case no more than 60 working days.
Annual fee of Primary Card: VND 1,200,000.
Annual fee of Supplementary Card: Free.
How to Close Card
Customer can choose either one of two ways:
- Submit Credit Card Account Closure Request form at Citibank N.A., branches or
- Call CitiPhone 24/7 at (84 8) 3521 1111
Customer may close a credit card at any time, subject to any specific terms and conditions of that credit card.
Citibank reserves the right to close inactive credit card which has no retail/cash advance transactions and no payments in 24 months.
Citibank may also suspend the operation of a credit card or close it without prior notice if customer breaches the set out terms and conditions of credit cards or the terms and conditions of any other services provided by Citibank, or if customer breaches applicable law or regulation in connection with the operation of a credit card.