|
|
Citibank Cash Back Card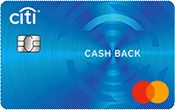 Citi Cash Back Card
Earn cash back on your daily spends with the Citi Cash Back Card.
5% cashback for Insurance, Hospital, Petroleum

Complimentary Insurance up to VND 50 million/year
Apply for the Citi Cash Back Card and receive premium gift
Daily Savings

5% cashback for all Insurance, Medical, Petroleum spends.

2% cashback for Education.

1% cashback for Supermarket, Online purchases and Department Store.

0.3% cashback for other spends.
*All Cash Back provided are based on categorization of merchants by Merchant Category Code (MCC) according to VISA. Citibank is not responsible for wrong encoding of MCC. MCC may change without prior notice if VISA and/or the merchant and/or the Merchant Bank decide to change them.
*Maximum Cash Back earned VND 600,000 per statement month and VND 7,200,000 per statement year.
*Minimum Cash Back for redemption is VND 800,000 per time and in multiple of VND 100,000.
*Citibank reserved the right to change Cash Back % without prior notice.
Calculate Your Cash Back
Monthly cash back (in VND)
Insurance, Medical, Petroleum

₫ 0.00

Education:

₫ 0.00

Supermarket, Department Store and Online purchases:

₫ 0.00

All other purchases:

₫ 0.00
TOTAL
CASH BACK EARNED
₫ 0

AVERAGE CASH BACK
EARNED ON ALL SPEND:
0%
Rewards & Privileges
Eligibility
Age

21 years old and above

(18 years old for a supplementary card member)

Minimum monthly gross income

15,000,000 VND

Annual fee

1,200,000 VND

Supplementary Card

Complimentary