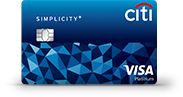 Citi Simplicity+ Card
Receive a new pair of Sony headphones
with your new Citi Simplicity+ credit card.
* Customers who pay on time will be credited 10% of the
actual interest paid in the prior statement.
Apply today.
Please complete the form below and we'll contact you in 2 working hours.
Information required