|
|
|
Critical Illness Return on Principal
Critical Illness Life Insurance Policy
Critical illness insurance, sometimes called a critical illness policy or serious illness insurance, protects you financially in the event of a critical illness. When critical illnesses such as major cancers, heart attacks or strokes occur, your critical illness insurance will ensure that your medical bills are taken care of and you will be provided for financially.
Critical illness insurance provides long term protection against critical illness while ensuring the sum assured grows year on year. Apply now and protect yourself with our critical illness policy.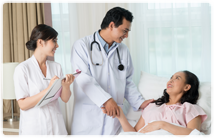 Critical Illness Life Insurance Policy
Critical Illness Return on Principal protects your financial plan against risks of critical illnesses.
Benefits
Increased sum assured
From 2nd year of policy, the sum assured will be increased 2% each year based on the original sum assured.
Insurance benefits in event of Critical Illnesses1
If the Insured is for the first time diagnosed with a critical illness or suffered a surgery2, which is covered by the Insurer and continues alive at least 30 days from the date of diagnosis or surgery, AIA will pay the sum assured as defined at the time of the insured event3 occurs.
Insurance benefits in event of Death
In the event of Death, if the policy is in force and no benefit payments have been paid, AIA will pay sum assured as defined at the insured event3.
Premium refund
During the period between the completion of premium payment period (15 years since the date of the policy comes in force) until the policy maturity date, at the request from policy owner, AIA will refund 100% the total premium4 provided the policy is still valid and the insured is still alive.
Cash Advance
If the insurance policy is in force and has surrender value5, the policy owner can request a cash advance which does not exceed 80% of the surrender value.
Long-term protection
In cases where the policy owner does not request premium refund, the Insured will enjoy the financial protection until he/she is 65 year old without premium payment. The benefits which occur on the event of critical illness and death, or the benefits of premium refund and cash advance as stated above are still in effect.
Please refer the list of critical illnesses in the Policy or at www.citibank.com.vn.
As defined in the insurance policy.
All the insurance benefits of this policy and riders (if any) will immediately end when the critical illness or death benefits are paid out.
Total premium: is the amount of the premiums paid in accordance with the schedule provided in the insurance policy (excluding additional premiums and premiums of rider) without any interests after tax (if any).
Surrender value (if any): is the amount of money that the policy holder will be refunded before deduction, upon request to terminate the policy during the insurance policy in effect. Cash value (if any) is the net value of the policy after deducting all the advance amount, deduction from investment income (if any) , overdue premium and other obligations.
Requirements
Age of entry: from 18 years.
Age of Insured: 18 to 50 years.
Max age of maturity: 65 years.
Payment term: 15 years.
Regular payment period: quarterly/ bi-annually/ annually.
To apply now:
Call CitiPhone at (84 28) 3521 1111 (84 28) 3521 1111.
Visit our branch at 115 Nguyen Hue, TP.HCM or 17 Ngo Quyen, Hanoi.
1. The insurance products are not bank deposits or obligations of, or guaranteed by Citibank, N.A., Hanoi Branch and Citibank, N.A., Ho Chi Minh City Branch ( hereinafter called "Citibank, N.A., Vietnam") or any of its subsidiaries, group companies or affiliates. The purchase of the product is optional. The customer has full right to choose the suitable product fitting their needs and financial situation.
2. AIA Vietnam Life Insurance Company Limited ("AIA ") is the insurance underwriter of this insurance plan and is solely responsible for all approvals, coverage and compensations of their insurance plans. All Claims under the policy will be solely decided upon by AIA.
3. This insurance product is not insured by any government agency. All insurance companies operating in Vietnam must follow the reserve fund that is required by Vietnam Ministry of Finance in order to fulfill their obligations as per their commitment to customers via insurance contract (Article 9 – Decree 46/2007/NĐCP on Regulation on financial requirement for Insurance Companies and Insurance Agencies).
4. The above information is intended for reference only. Please refer to the Policy Contract and the website www.citibank.com.vn for detailed Terms and Conditions.
5. There are certain conditions whereby the benefits under the plan will not be payable. These are stated as exclusions in the policy contract. You are advised to read the policy contract for the full list of exclusions.
6. The Benefit Illustrations (where applicable) presented are not actual and for illustrative purposes only. The accumulated interest rates, annual dividends and maturity dividend (where applicable) are subject to certain market factors etc. Past performance / record is not necessarily indicative of future result.
7. Buying a life insurance policy is a long term commitment. An early termination of the policy might involve high costs and the surrender value may be less than the total premium paid.
8. In order to support customer in premium payment, Citibank provides the Direct Debit Authorization (DDA) service by which insurance premium will be collected and paid to AIA in accordance with the amount and frequency requested by customer.
9.  Subject the specific insurance product Terms& Conditions, if you are not happy with your policy, you have the right to cancel it within the Cooling-off Period which is 21 ( twenty one) days after the AIA insurance acceptance date on the insurance certificate and date you receive the insurance certificate. AIA will refund all premiums paid after deducting health check fee and any expenses incurred for underwriting and policy issuance process, if there is any. Should you cancel the insurance policy after the Cooling-off Period, you may loose all paid premium and just receive the account value or surrender value, depend on case by case.
10.  You are advised to review your financial circumstances at least once annually in order for you to review and monitor your existing financial plans and to identify new and emerging financial needs that may arise.
11.  Citibank, N.A., Vietnam is not responsible or liable for any product and service offered by AIA Vietnam. AIA Vietnam is the insurance underwriter of this insurance product and is solely responsible for all insurance and compensation related matters.
12.  Tax benefits, if applicable are governed by local regulations and subject to changes in the tax laws. Citibank and its employees are not in the business of providing tax advice.
13. For more details, clarification, policy servicing, claim and cancellation enquiries, please call your bank financial consultant or contact:
CitiPhone (84 28) 3521 1111
Citibank branches:
Ha Noi: 17 Ngo Quyen St., Hoan Kiem District
Ho Chi Minh City: 115 Nguyen Hue Blvd., District 1