|
Citibank Online® Security
Online Security
We protect. We care. When you are with Citibank you are guaranteed in security. Find out how Citibank has endeavored to protect you.
Latest Security Alerts
Ptracker Alert
Any Android phone with illegal phone tracking app Ptracker installed will face the risk of data manipulation, i.e. the One-Time PIN provided to make transactions on Citibank Online® and Citi Mobile®. If your account and password details are disclosed, online fraud could occur.
We highly recommend that Ptracker is uninstalled, and login details for Citibank Online® and Citi Mobile® are updated for customers who have downloaded this application.
For your security, we strongly advise against downloading software from unofficial online app stores.
Credit card fraud
Credit card fraud can occur when someone obtains your credit card details and uses them over the phone or on the Internet to make purchases in your name. You should always carefully check your statement each month to determine if there are charges for purchases you did not make.
Beware of suspicious telephone calls. Citibank won't contact you by phone with the offer of a preapproved credit card. If you receive a phone call from someone offering you a preapproved Citibank credit card - on the basis you supply them with personal information such as drivers licence, address details, income details - report it to the police or contact CitiPhone at (84 28) 3521 1111 (84 28) 3521 1111.
How to protect yourself
Protect Yourself from Fraud
Here are few types of fraud and the preventive steps that you can take to prevent yourself from becoming a victim.
Phishing
Phishing emails, also known as hoax or spoof emails, are fraudulent emails that appear to be sent from a trusted source but are in fact, designed to trick you into revealing valuable data such as your User ID, password, card details and One-Time Pin (OTP).


Be aware of websites imitating Citi
Check web-link URL is citibank.com.vn
Always type citibank.com.vn within the internet browser address bar.
If ever in doubt, don't enter any information within the website & report to Citi's fraud reporting service.
SMiShing
SMiShing messages appear to be from a legitimate company and typically contain a link that takes you to a spoof website, or it may ask you to call a phone number. Even if you don't enter any information, clicking the link can lead to other problems, such as installing malicious software or dangerous viruses to your phone.
HOW TO RECOGNISE SMS FRAUD

You may receive an SMS from a fraudster posing as Citibank, requesting you to share personal information, such as account or card details.

In most cases you will be directed to a fraudulent lookalike website that requests you to enter your:
Card details
Name & Address
User ID & Password
One-Time PIN (OTP)

Fraudsters can utilise your details to make immediate purchases or fund transfers.
HOW CITI IS PROTECTING YOU
We're constantly updating and improving our wide variety of security measures, providing you the confidence you need when using Citi Mobile® or Citibank Online®.
Web Security
Our 256-bit SSL (Secure Sockets Layer) encryption engine provides industry standard levels of security, ensuring your information can't be accessed by anyone else.

The green address bar on Citi websites indicates that the site has undergone extensive vetting by our security teams and has been granted a security certificate known as an Extended Validation SSL Certificate.
For safety, we'll suspend your online access if three failed login attempts are made. We'll also block access to cash machines if the wrong PIN is entered three times.
You are recommended to use supported and updated browsers to ensure your internet banking is secured at all times.
Every time you sign in to Citibank Online®, the date and time of your last visit are shown. If you didn't sign in then, this will indicate an unauthorised account access has occurred.
2-way SMS Notification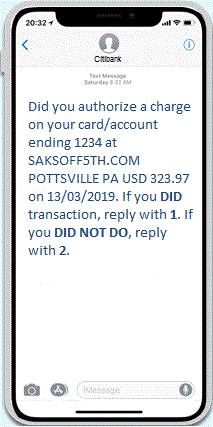 Our 2-Way SMS service alerts you of any suspicious transactions on your account. It is important that you respond to us immediately:

You should reply to the SMS with "1" if the transaction is authorised by you or "2" if the transaction is not authorised by you.

Please note

You will receive the SMS from the number 6058 ("Short Code") if your registered mobile is a Vietnam number and ("Long Code") +61 42630 6058 if your registered number is not a Vietnam number*.
We will not ask for any additional information to be provided other than "1" or "2".
If you are overseas or holding onto an overseas mobile number, please send your reply to Long Code +61 42630 6058.
Please contact us if you have any issues.

You can stay on top of your account activities with customized Citi Alerts, where you can get SMS or email notifications whenever there is a specific transaction on your account.
Citi Mobile® Token
Citi Mobile® Token is a feature within the Citi Mobile® App that authenticates transactions as an alternative to other authentication methods such as Online Security Device, or One-Time PIN (OTP) via SMS.

The benefits of Citi Mobile® Token are:

SECURE

Protected by a 6-digit Unlock Code chosen by you and restricted to one device of your choice.

INSTANT

Enter your unique Unlock Code to instantly authenticate your transactions initiated in Citi Mobile® App on your Citi Mobile® Token enabled device. No more waiting for an OTP via SMS, or worrying about misplacing your Online Security device.

EASY

Authenticates all online transactions such as payments and transfers, adding new payee and updating your contact details. It also generates OTP for online purchases.

With the Citi Mobile® Token, you can instantly authenticate all transactions initiated in the Citi Mobile® App. You can also instantly generate OTP with your unique Unlock Code to authenticate transactions on Citibank Online® or for online purchases.
After enrolling to Citi Mobile® Token, you should not share or reveal your Unlock Code to anyone, including Citibank.
Misplaced your card? Lock your card on the Citi Mobile® App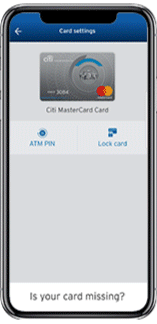 If you've misplaced your card, you can temporarily lock your card at Citi Mobile® App so that no one else can use it. You can unlock your card just as easily when you need to.
While your card is locked, you will not be able to use it for point-of-sale transactions. However, any recurring payment instructions that you may have established on your card will not be affected.
To terminate your card and request for a replacement if your card is lost or stolen, please call our Citiphone hotline.
FAQ
MINIMUM SYSTEM REQUIREMENTS
To continue to protect your data to the highest standard, from early 2018 to access Citibank Online® and Citi Mobile® App via your smartphone, tablet and desktop please ensure that your browser and operating systems meet the minimum requirements found here (link). You will need to update or upgrade your browser / operating system in order to continue to use Citibank Online® and the Citi Mobile® App.
How can I tell which browser version I am using?
Depending on the type of browser you are using, you can determine the version in your browser under:
About Internet Explorer
About Mozilla Firefox
About Google Chrome
About Safari
If you do not update your browser or operating systems, you will not be able to connect to Citibank Online® or use Citi Mobile® App and will be presented with the following error page for example:



Minimum System Requirements
Desktop

Chrome 30 / Win 7

Firefox 31.3.0 ESR / Win 7

IE 11 / Win 7

Opera 17 / Win 7

Firefox 27 / Win 8

IE 11 / Win 8.1

IE 11 / Win 10 Preview

Edge 12 / Win 10

Firefox 49 / XP SP3

Chrome 49 / XP SP3

Chrome 34 / OS X

Firefox 29 / OS X

Safari 7 / OS X 10.9

Safari 8 / OS X 10.10

Safari 10 / OS X 10.12
Phones

Android 4.4.2

IE 11 / Win Phone 8.1

Edge 13 / Win Phone 10

Safari 5 / iOS 5.1.1
You can download a new browser from:
Microsoft Internet Explorer™: http://www.microsoft.com/windows/ie/downloads/default.mspx
Google Chrome: http://www.google.com/chrome
Mozilla Firefox: http://www.mozilla.org/products/firefox
Safari: http://www.apple.com/safari/download
Opera: http://www.opera.com/computer/windows